Training Catalog
Sustainable Homes Professional (SHP)
Overview
Join the Sustainable Homes Professional (SHP) program and learn cutting edge building best practices from our expert instructor, Stephen Aiguier of Green Hammer, as he guides participants through the entire spectrum of high performance building and shares practical insights on the following:
Building science fundamentals & moisture management
High performance wall & roof assemblies
HVAC product selection & integrated system design
Water conservation techniques
Indoor air quality, green material considerations & health impacts
Local green/energy efficiency building programs & incentives
SHP is a comprehensive, interactive, experience-driven education program for residential and multifamily building and design professionals looking to take their work to the next level of quality. Each of the six monthly modules can be taken individually and each module provides participants with an opportunity to gain valuable insights and eliminate common barriers to high performance building via:
Lecture, discussion, hands-on exercises, & short assignments
Guest speakers that share past projects, experience, & expertise on issues that are critical to successful sustainable building
Two tours of under-construction or recently-completed certified homes with builders & raters on-site to explain approaches, reveal benefits, & answer questions
A final project that progresses throughout the course and puts principles into practice by guiding participants in designing their own high performance building or research project
A certification exam at the end of the course allows participants to earn the designation of an accredited Sustainable Homes Professional (SHP). Earth Advantage also provides marketing support to help graduates gain visibility as informed green professionals.
LEARNING OBJECTIVES
Overcome common barriers & misconceptions of high performance building
Analyze the costs & benefits of incorporating sustainable building measures
Take advantage of financial incentives and technical assistance offered by governments, utilities and non-profit organizations
Identify the full breadth of best practices from site layout to flooring selection
Enhance your knowledge of building science & how a home functions as a system
Establish a sustainable design goal by incorporating energy, water, & resource efficiency while maintaining a safe, comfortable, healthy building
Gain a builder/designer-centric approach to achieving the following certification standards: Passive House, Zero Energy, Earth Advantage®, LEED®, EPS

TM

, ENERGY STAR, Living Building Challenge, & more.
The SHP accreditation program was first offered in 2008 and has since has been offered over 20 times across Oregon, all the while maintaining a longstanding reputation for depth, applied learning, and outstanding quality. SHP is complementary to other industry credentials, like LEED AP, LEED GA, SBA, CPHC, BPI, HERS, and all the others. Sustainable Homes Professionals are architects, planners, builders, remodelers, engineers, consultants, real estate professionals, educators, and building operators who value quality craftsmanship, whole system thinking, and sustainable practices.
Schedule & Course Fee
---
ENTIRE COURSE REGISTRATION
Earth Advantage Builders, EA Remodelers & EA Professionals (

AGAs

,

EA Brokers

, Green Building Trainees):

$1375

Energy Trust Trade Allies, MWESB Contractors, HBA Members, PHnw Members & SBAs:

$1475

General Admission:

$1600




EARLY BIRD, GROUP, & ADDITIONAL DISCOUNTS may apply. Use "Upcoming Sessions" drop down menu at the top of this page to see what's available for each individual location.
TRADE ALLY REIMBURSEMENTS: Are you a Trade Ally of Energy Trust? You may be eligible for reimbursement, please email existinghomesdevelopmentfund@energytrust.org to request pre-approval.
---
INDIVIDUAL MODULE REGISTRATION
| | |
| --- | --- |
| Individual Module: | $275 |
| Two Modules: | $550 |
| Three Modules | $825 |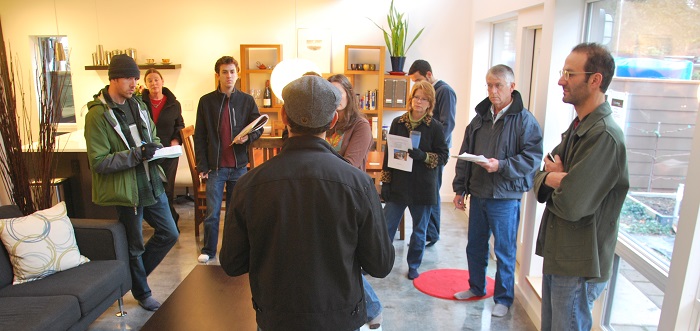 Questions?
Contact
education@earthadvantage.org
or (503) 968-7160 x60
Benefits
10 site visit tours to certified homes and 5 guest speaker presentations (see photos)
Guest access to the EA Home Certification online points worksheet for final project review & submission
Professional differentiation that comes with accredited SHP designation and use of logo
Receive customer leads through Earth Advantage's directory of accredited professionals.
Valuable networking opportunities with green building experts and fellow accredited SHPs that will help you develop a strong referral network
Marketing strategies & support to strengthen the business case for green building
SHP Manual, Resource Guide and the following course textbooks:
Discounts on future Earth Advantage courses and events
Continuing Education
BPI: 42 total units for all 6 modules; 7 per module
AIA: 84 total LU/HSW credit hours for all 6 modules; 14 per module
CCB: 84 credit hours
OCHI: 84 credit hours
OR Real Estate Agency: 84 total credit hours for all 6 modules; 14 per module
Earth Advantage® Broker: 84 total credit hours; 14 per module
Accredited Green Appraiser (AGA): 84 total credit hours; 14 per module
Reviews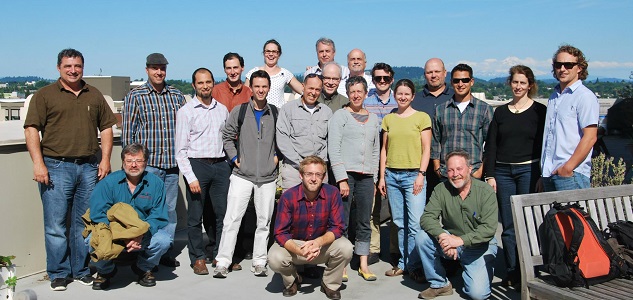 SHP Graduating Class | Spring 2013 | Portland, OR
Course Evaluations
See the SHP Course Evaluations Summary »
SHP Participant Companies
See the full list of companies that have attended SHP »
SHP Fall 2018 participants included:
Akos Construction
Birdsmouth Construction
Cellar Ridge
CleaResult
Community Energy Project


enerstructa llc
Green Hammer
Greenblueprints
In-House Architecture
Independence Gardens LLC


Noyes Development

Oregon Finish Carpentry, Inc.

PDX Hive

Terraforma Architecture Planning and Interiors
Testimonials
"I considered myself knowledgeable about green building, but thought I'd benefit from a refresher. This class went way beyond my expectations by providing loads of useful information that was new to me, and by challenging my assumptions. I feel much better informed and will be able to offer my clients more comprehensive architectural services as a result. The course was well worth the investment of time and energy, and I highly recommend it to anyone within the building industry. We must lead, not follow. "
— Keyan Mizani, Architect, SHP | eMZed Architecture LLC
---
"Since receiving my SHP certificate in the fall, I have been able to up-sell two different projects on energy/efficiency upgrades, expand a smaller kitchen/bath remodel job into a much larger whole-house approach that addresses a long-term vision of efficient living, and am currently proposing another whole-house retrofit. I attribute much of these additional sales to the knowledge gained during the SHP course. I have greater confidence and knowledge when discussing energy efficiency, advanced building concepts, solar/alt-energy options and future planning, and, generally, green building as a whole."
— Ryan Weeden, Builder, Owner, SHP | Four Square Design Build LLC
---
"Participating in the SHP course has helped me understand my projects better and has given me specific tools to guide them to success. I can now make confident recommendations to clients based on science and the wealth of experience conveyed during the course through case studies, site visits, and lectures. On top of that, this course has been fascinating and fun!"

-Jessica Canales, Project Manager, SHP | Birdsmouth Construction
"All of the site visits were extremely useful in connecting the concepts discussed in class to real-world examples. It was great to see such a variety of projects ranging from EA Certification, Passive House, LEED for Homes, LEED Multifamily, Living Building Challenge, Energy Star, NEEA Next Step, and the modular manufactured homes. The course topics that were most useful to me were air sealing, ventilation, mechanical sizing, and on site water purification. The EA SHP course greatly broadened my understanding of high-performance energy and the need for sustainability. From the broad concepts to the nuts-n-bolts, Stephen explained it all. Ryan organized a productive and engaging course. I can't wait to apply all that I've learned!"
— Buck Bailey, Architect, SHP | GreenPocket
---
"I too would like to express my appreciation to and for all of you. I appreciate the diversity of our group, the knowledge and differing disciplines. While the material is a major factor (the focus of the course), what's certain is that the people are what made up the course and provided the synergy and stimulation for me to begin thinking differently. Thank you all for your contributions to my personal and professional development. Additionally, my hat is off to Ryan, for your patience and gracious assistance… and to Stephen, for your wealth of ever-present knowledge, exquisite coaching and inspiration!"
— Bill Norman, Appraiser, AGA, SHP | Norman Appraisal Company
---
"Building performance and sustainability is a fast expanding topic that is gaining huge momentum in todays building industry. This SHP course provides an excellent insight into the full spectrum of high performance building topics."
— Rick Bostrom, Green Product Manufacturer, SHP | Tremco Barrier Solutions
---
"The course challenged me to think and re-assess approaches. Some were confirmed, some new options were offered, and most importantly current information about techniques that have failed to achieve the desired results."
— Dennis Kitch, Builder, SHP
---
"The SHP course will increase your knowledge of building science, emerging technologies and advanced building practices that help us become stronger advocates for energy efficient buildings."
— Neil Grigsby, Residential Sector Initiative Manager, SHP | Northwest Energy Efficiency Alliance (NEEA)
---
"This course was tremendous in understanding of the history of the developments that have occurred over the last century and how that informs us about residential construction industry today and the how to solve issues with existing facilities. Understanding about the overall systems and the importance of the integration of the team to effectively solve issues."
— Daniel Lajoie, Architect, SHP | departure: architecture planning interiors llc
---
"A combination of relatedness, practicality, humor, experience and knowledge. Lucky to have the opportunity to learn from Stephen."
— David Burdick, Engineer, SHP | Earth Harmony Habitats
---
"The SHP course has been the most valuable and interesting training course I have taken since graduating. I believe that it is one of the most valuable tools I posess for helping me achieve my career goals."
— Colin Mooney, SHP
FAQs
Who should sign up for the course?
The Sustainable Homes Professional course has been developed with builders, remodelers, architects, and designers in mind. It's also appropriate for consultants, home performance contractors, developers, teachers, students, HVAC & insulation specialists, appraisers, real estate professionals, engineers, program managers, consumers, and other professionals seeking an expansive, in-depth understanding of residential green building practices.
What's the value of SHP Certification?
Building professionals with the accredited SHP designation can:
distinguish themselves from other building professionals using marketing strategies and support provided by Earth Advantage
clearly communicate Passive House and Net Zero techniques when speaking with anyone from a customer to a Passive House Consultant
count on having greatly enhanced their network of other green building professionals
understand what it means for a home to be energy efficient and how a home should function as a system
discern between various green building labels and certifications
explore the full breadth of sustainable building practices
secure projects that are planned to be built green
refer potential clients to the Sustainable Homes Professional Accredited Professional Registry on the Earth Advantage website
describe what it means for a home to be energy, water, and resource efficient while maintaining a safe, comfortable, healthy building
explore the full breadth of sustainable building practices from site layout to flooring selection
utilize their hands-on final project to put principles into practice over the course of 6 months using a real-life examples
easily refer to their SHP Manual and Resource Guide, as well as the course textbooks during future projects
take advantage of discounts on other Earth Advantage Institute courses and events
Is the course approved for continuing education units?
Yes, please see the column on the right for the most updated CE info.
How long are the classes?
Each two day module meets once per month. Classes meet on Friday and Saturday from 9am – 5pm.
Can I see the course outline? Are there any prerequisites or requirements?
Click here to view a detailed SHP Course Outline (PDF). Students enrolling in SHP should be able to perform basic math calculations and should be familiar with basic construction principles. Beginning computer skills are needed to complete online quizzes and utilize the online course platform. SHP certification requires full attendance and the successful completion of quizzes, homework assignments, a final project and presentation, and a closed-book online examination, with a minimum final course grade of 75%. Students are allowed to retake the exam once to receive a passing grade. A CCB license is not required.
Do I have to build anything?
No. At the core of this curriculum is a Final Project and Presentation in which you bring together the knowledge and insight you gain from the modules and integrate these into your professional work. The final project encourages you to: apply the techniques for setting design goals and objectives; select appropriate certification tools; have the information you need to make informed design and construction decisions; plan for durability, performance and comfort and assure you get the desired outcome; optimize the use of resources – including raw materials, time and money; and work toward obtaining the information and documentation you need to get the recognition you deserve for your work – from a green building program, from your customers and from the community.
Who are the instructors? What are their qualifications?
Currently, Stephen Aiguier instructs the Portland course and Bruce Sullivan instructs the Bend course. Their full bio's can be found by clicking the links within their names under the Overview tab.
Are there site visits?
Yes, the six-month certification program includes site visits of innovative certified homes, including Passive House, Net Zero, Living Building Challenge, LEED for Homes, Earth Advantage, and ENERGY STAR. Generally, each two-day module includes two site visits.
What if I can't come to every class because of other obligations?
Participants may miss a total of two days of the SHP certification course and still receive credit for the course if all coursework is completed. Participants may also attend a future SHP course within a 24-month period to make up the portion of the class which was missed. Continuing education credits and professional designation will not be issued until attendance requirements have been met.
What if I decide to drop out or have an emergency that keeps me from completing the program?
If you discontinue your participation in the six-month certification program, you will only receive clock hours for continuing education for actual course attendance. You will be eligible to resume taking the course within a 24-month period to make up the portion of the class which was missed.
Can I take classes individually? How much do they cost? Will I get certified by attending individual classes?
Modules 1, 2, 3, 4 and 5 can be taken as individual classes and each two-day module is approved for continuing education credit (see SHP course page for specific allocations). Each module includes expert instruction, materials (textbooks not included), and two site visits of green homes for a course fee of $275. Attending modules 1, 2, 3, 4 and 5 only will not earn you the designation of an accredited SHP.
How much homework is there?
Monthly homework assignments, in the form of a short 1-2 page paper, will be applied to your Final Project. The homework is designed to help you integrate lessons learned into your professional work.
Do I need to pass all my coursework before I can take the certification exam?
Not necessarily. Your final course grade will be based on your performance in several areas. There are a possible 372 points to earn towards achieving a passing overall course grade of 75%. This means you need to earn a minimum of 279 points to earn an overall passing course grade. Points are earned through your Final Project and Presentation, the Certification Exam, Attendance, Homework Assignments and Quizzes.
How do I take the certification test?
The online, closed-book certification exam is composed of 100 multiple choice questions, and it is scheduled for the second day of Module 6. Successful completion of the exam will contribute to your earning the Sustainable Homes Professional accreditation. Should you need to retake the exam, your course fee includes one retake of the certification exam.
Is there an "SHP Lite" course I can take?
EA can help you meet your educational needs whether you are interested in an introduction to green building, are considering a new green career path, or would like to differentiate yourself through a green professional accreditation. We have assembled some of the top experts in green building and real estate to educate professionals and homeowners who are involved in all stages of the green home process. Course topics range from designing, building, and remodeling green homes to marketing, selling, financing, and appraising them. See our Course Calendar for details.
Are there discounts or scholarships?
Group discounts and custom classes can be created on an individual basis; contact Earth Advantage (EA) for details. Three (3) full-tuition scholarships worth $1,600 each will be awarded.
The SHP Scholarship Program is available for individuals who have been historically disadvantaged in the building industry. More information regarding the scholarship program coming soon. Please email Earth Advantage Education at education@earthadvantage.org for any questions you regarding the scholarships.