Partner With Us to Deliver
Training Programs Across the US
Industry professionals are finding it increasingly necessary to gain the knowledge and skills to design, build, market and valuate high performance homes and upgrades.
Given the recent growth of the green/energy efficient homes market, there is a tremendous opportunity for education providers to train real estate and building industry professionals on these topics. However, developing effective curriculum and establishing a sustained and successful presence in the market is typically a time intensive, expensive process.

Over the past 10 years, Earth Advantage has trained over 10,000 professionals across the country on high performance home features, benefits and emerging trends. We have been at the forefront of developing and delivering innovative training, accreditation, and engagement opportunities for real estate agents, appraisers, energy score assessors, builders, contractors, architects, code officials, and home inspectors.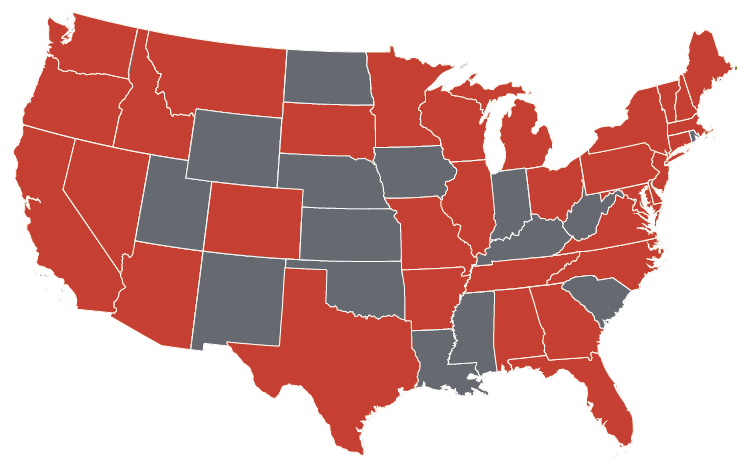 States where Earth Advantage has trained building and real estate industry professionals.
Earth Advantage has the proven capacity to develop and deliver courses from start to finish, including: needs assessment, curriculum development, accreditation, marketing, course registration, course delivery, and course or project evaluation. Courses are developed and delivered using a combination of in-house experts and outside contractors, when needed.
Consumer demand for healthy, comfortable, efficient homes is rapidly increasing nationwide. In response, many states and municipalities are delivering programs to make a home's energy use, attributes and upgrade potential more visible to the market.
Leverage Earth Advantage's extensive experience partnering with utilities, governments, realtor/appraiser associations, and green/energy efficiency building programs from across the country. We can help you deliver turnkey training programs and critical knowledge to building and real estate professionals in your market.
Earth Advantage Turn-Key Services
Customized curriculum (manual, presentation, activities, resources)
Marketing templates
Administrative checklists
Registration management
Training for trainers
Instructor access to online platform
Training delivery
Administration of online quizzes, accreditation exam, course evaluation
Accreditation delivery (logos, online profile, marketing support)
State licensing or professional continuing education accreditation
Is your organization interested in licensing Earth Advantage curriculum? We have a number of price points and optiions to offer training in your region.
I've worked with Earth Advantage for 2 years on a grant from the State of Alabama and the US Department of Energy. Our mutual goal was to develop and deliver curriculum that would give local REALTORs and appraisers the skills and knowledge they needed to take advantage of a growing green building industry. Our work with Earth Advantage has been nothing short of spectacular! The classes were so successful that we ended up getting another grant from the State to continue teaching them in other areas. We heard time and time again that these were the best classes the participants had ever taken. Thanks to Earth Advantage for such great work!
— Daniel Tait, Energy & Policy Institute of Alabama