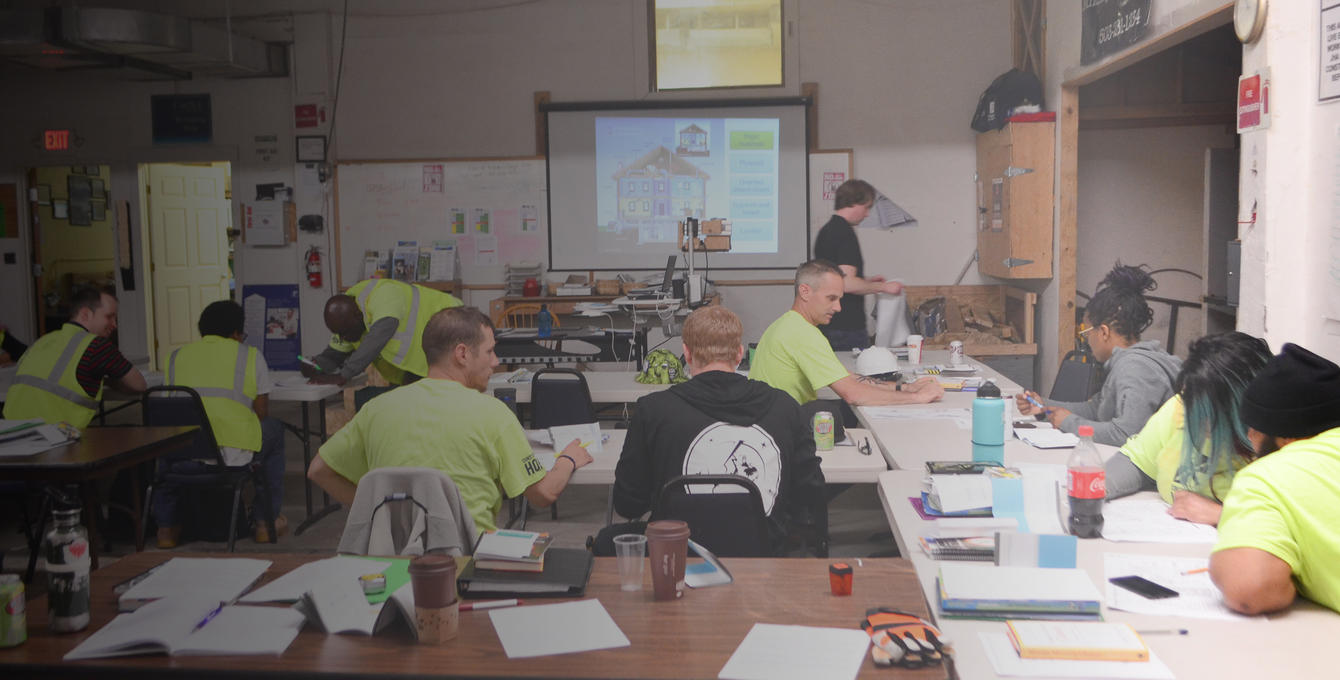 SHP Scholarship
Opportunities
Earth Advantage's Sustainable Homes Professional (SHP) Training Scholarship aims to provide green building technical training and professional development opportunities for Oregon populations that have been historically underserved or marginalized in the building industry.

The Sustainable Homes Professional (SHP) online training is an in-depth, self-paced online training program that provides participants with skills and expertise in residential green construction. Participants will learn building and design best practices from across the entire spectrum of high performance homebuilding and will have the opportunity to earn Earth Advantage's Sustainable Homes Professional (SHP) credential. Visit the link above to learn more.

This scholarship opportunity will award fifteen (15) full-tuition scholarships worth $600 each. Earth Advantage encourages Black, Indigenous and people of color (BIPOC), women, trans and gender diverse individuals, rural community members (population ≤20,000), and others who have been historically underrepresented or marginalized in the building industry to apply. Applicants must reside in Oregon to qualify for this scholarship opportunity.

There are no prerequisites required to apply for the scholarship or to enroll in the SHP training, however proficiency in English and some previous experience in the home construction and/or design trades will help participants gain maximum benefit from the opportunity. Since SHP is available online and on-demand, participants will need access to a computer and the internet to complete the training.
Market Demand for Green Building Professionals
The future of buildings in the Northwest will undoubtedly be more energy efficient and technologically advanced, and will require a larger workforce thanks to Oregon's nationally-recognized and pioneering local programs and market conditions:
Growing consumer demand in green/energy efficient homes as demonstrated by local and national market studies.
Increasing levels of homebuilders participating in above-code third party verification programs.
Advancements in the energy code via future OR Residential Building Code cycles.
Increasing rates of home energy retrofits and upgrades via Home Energy Score programs launched by OR Department of Energy, City of Portland, and other municipalities across OR.
Public investments in energy efficieny, renewable energy and workforce development projects beginning in 2021 via the Portland Clean Energy Fund.
Ensuring that a highly diverse and qualified Oregon workforce is trained to meet current/future construction demand will be critical to advancing these sustainable practices and providing equitable employment opportunities.
Green Construction Workforce Opportunities
Energy efficiency employment (where construction is the top industry) expected to add 1,835 jobs in Oregon between 2020 and 2021 — a 4.3% growth rate in our state compared with 3% nationwide [Energy Futures Initiative & National Association of State Energy Officials]. About 92% will be replacement jobs as the current workforce ages out, and the Oregon Employment Department states that "in 2017, workers age 55 and older made up nearly a quarter of the construction and manufacturing workforce, a share that has increased by 15 percentage points in the last 25 years." Construction also has the highest share of difficult-to-fill jobs (85%) of any sector in Oregon, even though the skilled construction trades do not require a college degree. The median hourly wage for construction workers in Oregon was $23.73 an hour, which is around 45% higher than the statewide median for all industries at $16.25 (Oregon Employment Department). For more information on the growth of Oregon construction industry jobs, labor shortage, and average pay scale, click here.

Women make up 47% of the U.S. workforce but only 25% of the energy efficiency workforce, and Black Americans make up 12% of the U.S. workforce but only 8% of the efficiency workforce [U.S. Energy and Employment Report 2020]. There is also an overall lack of identity within the building efficiency workforce, with most efficiency professionals identifying as other workforces – construction, manufacturing, business services, etc. – and a lack of effective training and credential pathways which can lead to improper installation, a lack of trust in efficiency technology, and up to 30% wasted energy [National Renewable Laboratory 2020].

The current housing market demands qualified green construction professionals and taking the Sustainable Homes Professional (SHP) online training to earn the SHP designation will help you demonstrate this newly acquired expertise to prospective employers and the market.
Scholarship Details
Fifteen (15) full-tuition scholarships worth $600 each will be awarded based on information provided in the application below.
The deadline for application is 11:59PM on Monday, December 21, 2020.

Awardees will be notified on Wednesday, December 30, 2020.

The SHP online training program will launch in late-January, 2021.
We recognize that not everyone has access to reliable technology and applicants may download the Scholarship Application and submit via email (lkemp@earthadvantage.org) or mail to our Earth Advantage offices (623 SW Oak, Suite 300, Portland, OR 97205). Applications must be postmarked by Dec. 21 in order to meet the application deadline.


Earth Advantage is committed to a mission that prioritizes justice, diversity, equity and inclusion.
This opportunity was made possible in part thanks to support from Energy Trust of Oregon.
All application information is confidential. Earth Advantage and Energy Trust of Oregon will not
disclose any information without your consent.