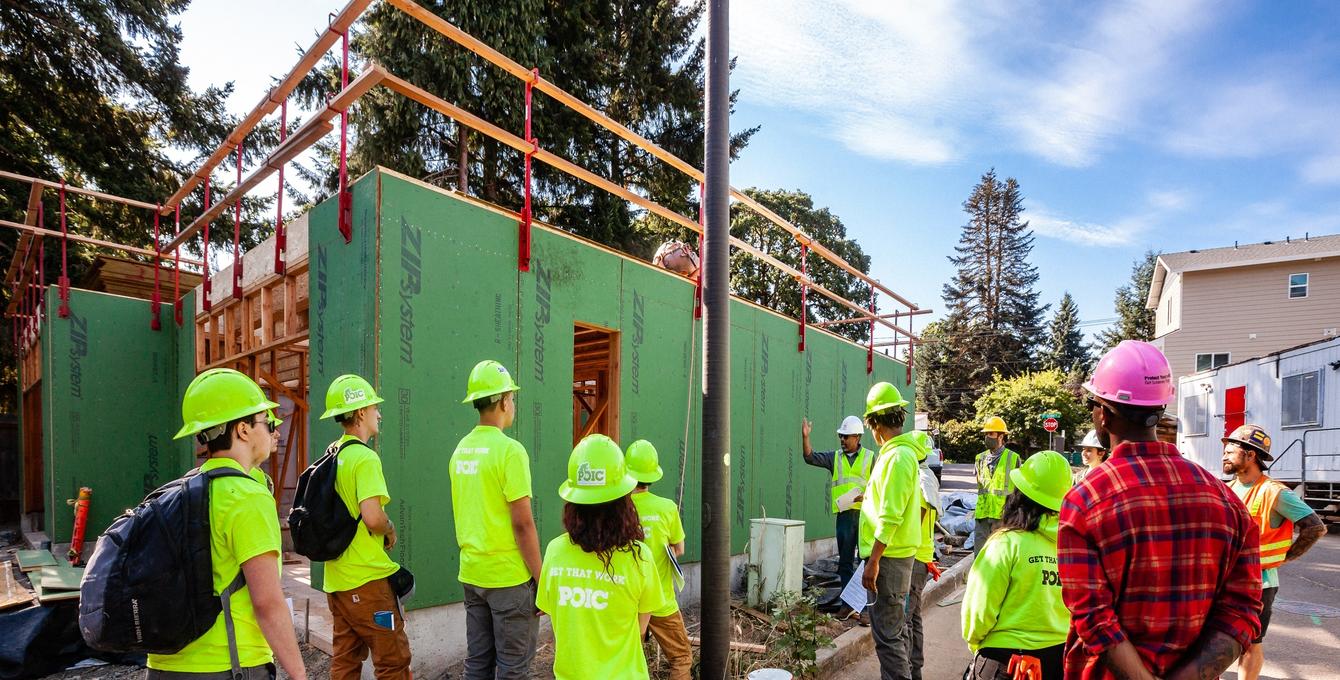 Clean Energy Internship
Program
Earth Advantage's Clean Energy Internship Program aims to provide energy efficiency and green building technical training, mentorship support, and professional development opportunities for Portland metro area populations that have been historically underserved in the building industry.
The goals of the internship program include supporting interns in identifying a career pathway leading from pre-apprenticeship workforce development training towards educational and experiential opportunities in: Home Energy Score (HES) assessment and quality assurance, green building program inspection and certification of single-family and multifamily projects, and online training opportunities in residential green construction.
INTERNSHIP PROGRAM

Reports to: Ellen Williams, Residential Services Coordinator
Location: Portland Metro
Classification: Part-time (20/hours per week for 12 weeks) with compensation
Position Close Date: Open until filled
Participation Details:
Two internship positions are available as of November 1, 2021 and will remain open until filled.
The Winter 2021 program is expected to begin in December 2021, and will extend into March 2021.
Applicants must submit an Application and Resume (see below for more info) and select candidates will be contacted to schedule an interview with EA staff.
Applicants must be either currently participating in, or have completed, a pre-apprenticeship training with one of the following Earth Advantage partners: Constructing Hope, Portland Youth Builders, Portland Opportunities Industrialization Center, Oregon Tradeswomen, Green Workforce Academy, or Heart of Oregon Corps. Applicants must also reside in the Portland, Oregon metro area, be proficient in the English language, be over 18 years of age, and supply their own vehicle and have a valid driver's license and insurance to qualify for this internship opportunity. See below for a complete list of required qualifications.
ABOUT EARTH ADVANTAGE
E
arth Advantage is an entrepreneurial Oregon-based nonprofit whose mission is to accelerate the creation of better buildings. If you're interested in interning at an organization staffed with intelligent and dedicated people, this is the place for you. Learn more about our Vision and Core Values.

Earth Advantage is an equal opportunity employer that values diversity at all levels. We are committed to providing an inclusive, non-discriminatory and welcoming environment for all members of our internship, staff, partners, subcontractors, and vendors. We are actively engaged in an ongoing process to identify inequities in our programming, organizational culture, community, and industry. Applicants from underrepresented communities are strongly encouraged to apply.

Earth Advantage provides interns with a laptop, flexible workspace for fully vaccinated individuals (at EA's downtown Portland office, as needed), and other equipment/technology that will be required as part of the internship program.
WHO WE'RE LOOKING FOR
We are looking for an organized, inquisitive, and collaborative individual with a passion for sustainable construction. This person should possess a strong interest in growing their building science knowledge, developing their professional communication and problem-solving skills, and pursuing a career in the residential building industry. They should enjoy working on construction sites, learning, and communicating.

Internship Activities:
Gain access to in-depth professional development opportunities through live webinar or on-demand trainings and accreditations provided by Earth Advantage and our partners, including: Sustainable Homes Professional (SHP), ADU Specialist, Zero Energy Professional, Advanced Home Energy Score Series and more.
Gain an understanding of building science principles and practices through in-field mentorship on energy efficiency projects, including: energy assessments/audits, new construction and home retrofit applications.
Shadow and assist EA Field Technicians with in-field building inspections and learn about associated processes and checklists/forms that apply to residential (single-family and multifamily) green certification and energy scoring programs, including: Home Energy Score (HES), Energy Performance Score (EPS), Earth Advantage, Zero Energy / ZE Ready, ENERGY STAR, and LEED for Homes.
Observe and assist with in-field diagnostic testing, including: duct leakage testing, blower door testing, Combustion Appliance Zone (CAZ) testing, and air flow testing.
Gain familiarity with software tools used in our certification and scoring processes, including but not limited to: energy modeling, Green Building Registry, and Salesforce.
Learn to provide guidance regarding the various green certifications and energy scoring programs to builders, subcontractors, scoring assessors, and developers.
Learn about the process of developing and refining certification programs, including helping to research and identify new standards and measures.
Engage with EA project teams to learn about clean energy projects and partnerships through the Portland Clean Energy Fund (PCEF).
Gain professional development support and facilitated connections to prospective employers and networks in the clean energy and energy efficiency industry.
Required Qualifications:
Currently participating in, or have completed, a workforce training with an Earth Advantage program partner (Constructing Hope, Portland Youth Builders, Portland Opportunities Industrialization Center, Oregon Tradeswomen, Green Workforce Academy, or Heart of Oregon Corps)
Be at least 18 years of age
English proficiency
Lift 50-60 lbs at any given time
Comfortable in confined spaces such as attics and crawl spaces
Possess valid driver's license, auto insurance and vehicle to travel to and from job sites (mileage reimbursements provided)
Great customer service skills and a sincere desire to help people
High motivation with demonstrated ability to take initiative
Attention to detail, follow-through, and ability to keep people informed
Computer skills and familiarity with Microsoft Office & Google Drive
Ability to interact and communicate with general contractors, superintendents, developers, architects, and homeowners
Beneficial Qualifications:
Bachelor's or Associate degree (in education, marketing, sustainability or related field)
Experience in green building and/or energy efficiency
Construction trade experience, such as: home inspection/assessments, carpentry, insulation, HVAC, framing, or electric installation
Savvy with new technology
Fluency in two or more languages
COMPENSATION
$17 per hour + mileage reimbursements
20 hours per week
12-week duration
TO APPLY
Please complete and submit the Internship Application below to apply for this position.
Applicants can also download the Application and mail it along with their Resume to: Earth Advantage, P.O. Box 86388, Portland, OR 97286.
Incomplete applications will not be considered. No phone calls please.
Questions? Email internships@earthadvantage.org.

This opportunity was made possible in part thanks to support from Energy Trust of Oregon.
All application information is confidential. Earth Advantage and Energy Trust of Oregon
will not disclose any information without the applicant's consent.