Earth Advantage Home Certification
An Earth Advantage-certified house incorporates design elements, systems and materials that create superior indoor air quality, use natural resources responsibly, protect land, and lower water usage.
Overview
Understanding the Program
Earth Advantage Home Certification is Earth Advantage's high performance home certification standard. The program can help builders differentiate themselves while building more sustainable homes for a public increasingly interested in energy efficiency and healthier residences.
Developed in early 2000 as the Northwest's only third-party verified certification program, it was based on extensive stakeholder feedback as well as testing and modification during a series of pilot projects in the late 1990s. Periodically updated, the standard is built around a core of energy efficiency but goes beyond energy to promote a healthier and environmentally friendly home. Earth Advantage Home certification significantly exceeds code requirements.
The standard is based on achieving required points on a scoring sheet covering five categories -- energy efficiency, healthy indoor air quality, resource efficiency, environmental responsibility, and water conservation – earned over the course of two verification visits. By working with builders, designers, tradespeople, and homeowners, Earth Advantage is gradually moving the industry towards higher levels of sustainability. To accomplish this, the organization offers three levels of Earth Advantage certification: Silver, Gold, and Platinum, as well as our advanced Earth Advantage Net Zero and Net Zero Ready, Multifamily certification and our newly launched Remodel certification.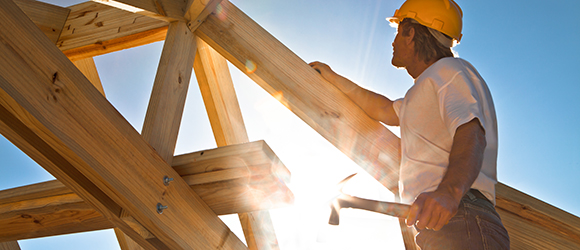 How does the program work?
Builders who would like to have their next project certified under the Earth Advantage Homes standard contact the organization's builder outreach specialists during the planning stages or prior to breaking ground in order to enroll as an Earth Advantage Builder. During the initial meeting or phone call the outreach specialist will explain how the program works and the elements of the points sheet, which are part of a general information packet.
After construction begins, Earth Advantage green building consultants are available for technical questions from builders. The organization's verifiers will visit the site at least two times, once at rough-in to verify insulation, mechanical equipment, window installation, moisture levels and building technique; and once upon completion to assess operation of heating and cooling systems, finished products and overall airtightness of the homes. At this time they are able to verify that the home has passed certification, and the team will also provide the home with an Energy Performance Score that can be used by potential buyers to compare energy consumption and carbon emissions between homes.
Creating a Healthier Home:
Earth Advantage certified homes offer a healthier living environment. To promote health, builders use more sustainable materials and finishes that do not off-gas harmful fumes. They ensure that air is filtered before entering the home, that all gas combustion systems are sealed, and that the home is properly ventilated to expel any remaining harmful pollutants. Earth Advantage homes also protect the home against the health risks associated with excessive moisture. Techniques as moisture barriers combined with rainscreens reduce the risk of organisms supported by moisture and rot, including molds, fungi and pests. Air sealing the house promotes health by helping to prevent airborne allergens and industrial particles from coming in. Ventilation also improves the quality of air in the home and helps reduce spot moisture problems.
Energy Efficiency Means More Comfort for Less Cost:
Earth Advantage® Certified Homes use a variety of features and techniques to save 20% more energy than a home built to code (on average). Some of the energy saving measures that are included on all certified homes: effective insulation systems; high–performance windows; tight construction and sealed ducts; efficient heating and cooling equipment; and ENERGY STAR qualified lighting and appliances. These features help eliminate drafts and cold/hot spots in the home, while adding up to substantial savings on utility costs.
Limited Impact on Land:
An Earth Advantage certified home reduces the negative impacts that construction can have on the land and natural systems. Care is taken to preserve natural habitat and features, vegetation and open space. Construction processes are managed to preserve soil from damage, contamination and erosion. Waste is reduced through recycling and accurate calculation of materials needs. Landscaping with native and drought resistant plants is encouraged.
Safe and Durable Materials:
Earth Advantage New Homes use materials wisely. The builders choose materials and products for durability in order to decrease maintenance and replacement costs. They typically order local materials where available and choose products containing a high percentage of recycled content. Such materials may include roofing, decking, formaldehyde-free cabinetry, and sheetrock using recycled gypsum.
Reduced Water Consumption:
Earth Advantage Certified Homes protect water quality and preserve this precious resource. Builders install low flow fixtures and toilets and may recommend tankless water heaters that save water through instant heating. They may recommend water saving irrigation systems for yards. During construction, builders take measures to prevent erosion, protect nearby bodies of water, and manage stormwater.
What are Program Costs?
Builders pay an enrollment fee of $500 to be part of the Earth Advantage new homes program, which entitles them to technical advice and marketing support for all future certified projects, as long as they remain an active program builder. After the first on-site verification at rough-in, the builder pays a per-project verification fee that covers both visits.
Online Points Worksheet
Our goal at Earth Advantage is to help you build sustainable, durable, and energy efficient homes. The industry is moving faster than ever before in this direction. 2012 marked a significant change for Oregon and Washington, with changes in both statewide building codes as well as the specifications for Energy Trust of Oregon programs and ENERGY STAR certification. EA has changed, too, with a new points system and simplified points worksheet that can be accessed and filled out online.
Certification
Certified Performance and Resource Efficiency

The Earth Advantage® Homes certification program is a third-party certification program for builders that helps them create energy efficient, healthy and resource-wise homes that add value for the homebuyer. The Earth Advantage Homes standard requires projects to achieve a minimum number of points on a scoring sheet covering five categories over the course of two verification visits, including energy efficiency, healthy indoor air quality, resource efficiency, environmental responsibility and water conservation. Depending on the number of points earned, the projects may qualify for different levels of certification: Earth Advantage Silver, Gold, or Platinum.
The Five Pillars of Earth Advantage Certifications
Energy

By using high performance equipment and increased insulation, this home's monthly energy bills can be significantly lower than those of a traditionally built home, saving you money from the day you move in. The home's reduced energy needs will cause fewer carbon emissions and require less fossil fuel. Comfort is also improved by increased air sealing of the home, which reduces drafts.
Health

Indoor air plays a major role in overall health and lifestyle. This home contains fewer products that off-gas harmful chemicals. It also incorporates a ventilation and filtration system that reduce airborne contaminants, diminishing the chances of allergies, asthma, and other more serious health risks.
Land

Development Practices used during the construction of this home diminish land degradation and deforestation, promote healthy landscapes, reduce waste, and prevent potential erosion associated with lot development during the construction process.
Materials

New home construction and upkeep depend heavily on natural resources. The use of locally manufactured products is encouraged, because they are environmentally responsible and durable. This helps the environment by reducing the amount of future materials needed to maintain the home.
Water

This home was built using water-wise technologies that help lower utility bills and reduce the total amount of water needed to maintain a comfortable lifestyle. Water shortages are a primary concern in the 21st century, and this home addresses water conservation needs.
Points Worksheet
Online Points Worksheet
The Earth Advantage program consists of individual measures that have been evaluated by using the five categories of the Earth Advantage program: Energy, Health, Land, Materials, and Water. This evaluation leads to measure scores in each of the five categories.
For a house to be certified under the Earth Advantage® Homes criteria, each house must achieve a minimum number of points in each category: Energy (15), Health (10), Land (10), Materials (15), Water (10) for a total of 60 points. In addition, there are a number of Prerequisites that must be met. Prerequisites are clearly indicated in the online Points Worksheet and can be downloaded from the website.
To complete the worksheet, select measures to install or implement in your project. The total number of points is automatically shown at the top of the page. To submit your project for certification, first complete the online Points Worksheet and upload your plans in PDF or CAD format. In addition to the completed worksheet, each house must have appropriate documentation (when applicable), pass required performance tests (blower door and duct blast tests if appropriate) pass insulation inspection and a final inspection by Earth Advantage field technicians.
Most points in the Energy category are assigned by conducting an energy analysis of plans, called an energy model. Individual measures will show zero energy points on the Points Worksheet. After energy modeling has been completed by the EA staff, points will appear under Measure 1.3.1. More information about modeling and energy points appears in the help text online and in the downloadable Measures Guide.
Also to be noted: measures marked with the "AF" symbol require that an Accountability Form be signed and completed by the responsible party, and submitted upon final home review. AFs appropriate for the project can be downloaded from the Project Summary page once the project has been submitted.
The online Points Worksheet can be saved at any point so you can stop working on it and come back later.

Have more questions regarding the online points worksheet? Contact your green building consultant >>
Technical Services
Earth Advantage builders will find some of these services under Schedule of Fees in their Earth Advantage agreement. This price list contains additional services our technical department has the expertise to deliver outside of the normal work scope for home certification.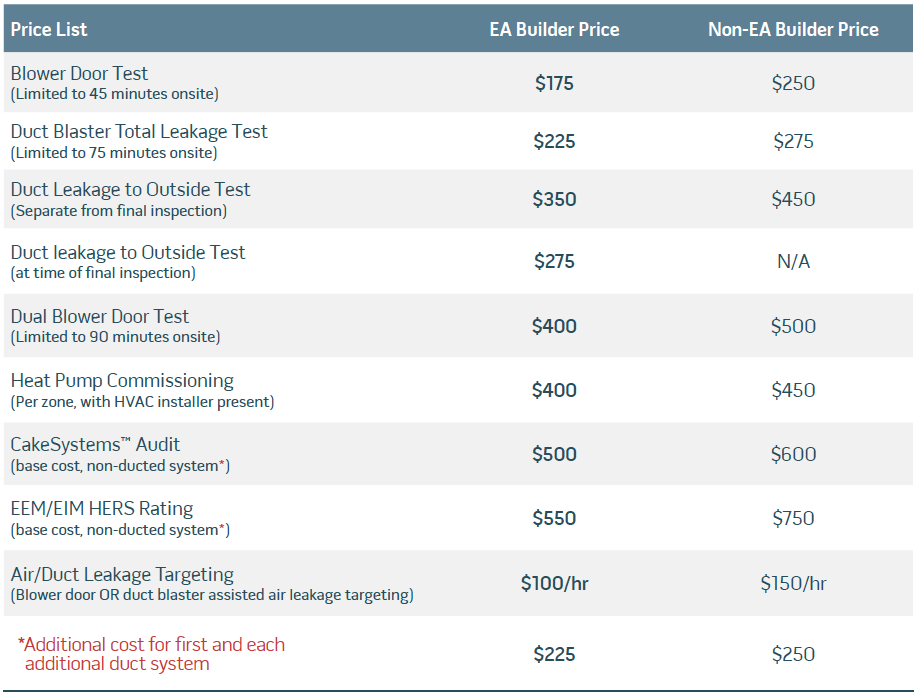 Contact Green Certifications Field Manager,
Waylon White
for further information.
Download the
Technical Services Price List
This price list applies to the Portland and Bend, Oregon metro regions. Travel costs may apply for homes outside of this region.