What Makes a Building Better?
Better than what, you might ask. When we say better, we mean better than the current state building code. A building code is a set of rules that specify the standards for single family and multifamily residential structures. Building codes protect us from structural, sanitary, and fire disasters while esuring a minimum level of energy efficiency in buildings. Green and high performance building practices are considerably better than these mimimum standards which is why Earth Advantage has created a suite of certifications to guide builders toward these better homes.

Our mission is focused on accelerating the adoption of high performance buildings by providing builders and developers with a pathway toward the best possible building design. We do that through our certifications which outline a set of measures and prerequisites that when combined together give builders the flexibility to design the home they want at much higher levels of quality than a code home. The ultimate goal is for all homes to be built to the highest standard of design—a zero energy home—which uses a combination of strategies to be highly energy and water efficient while providing superior durablity, moisture control, indoor air quality, and comfort.
---
Earth Advantage Home Certification
Earth Advantage certified homes reward you and your family with the quality of a home that reflects your lifestyle choices. All certified homes comply with prerequisites that assure construction best practices are implemented. The number of additional elective measures determine the certification level of each home; Silver, Gold, Platinum, or Zero Energy. Our third-party certification ensures five key areas of building a sustainable home are met: energy, health, land, materials, and water.
The Benefits of Earth Advantage Certification
​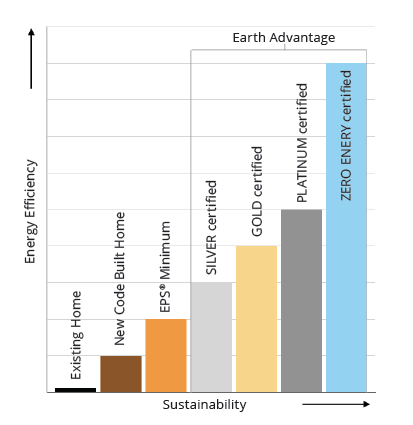 Peace of Mind
Homes are performance tested for air tightness, bath fan ventilation air flow and whole building mechanical ventilation. These vital systems are paramount to construction quality.

Inspected for Quality, Two rigorous on-site inspections of every home bring accredited building scientists into the quality control process of your home's construction.
Better Indoor Air Quality
Programmable outdoor air exchange with a whole building mechanical ventilation system improves indoor air quality by reducing airborne pollutants in your home.

Duct floor registers protected during construction keeps construction debris out of the ducts which extends the life of your forced air heating system and improves the quality of the air you breathe.

All bath fans are tested for ideal performance level, assuring that your home can properly remove moisture, the single biggest cause of construction defect problems and many health concerns.
Reduced Cost of Homeownership
Stringent minimum performance requirements in energy and water consumption saves you money every month, allowing you to buy more home or use the savings for your own dream fulfillment.

Window and door sill pan flashing greatly reduces the chance of bulk water intrusion at vulnerable openings, resulting in a more durable house and fewer opportunities for damage to your home.
Year Round Comfort
The industry's most rigorous air sealing and insulation checklist produces homes that are virtually draft free. Air sealing coupled with higher insulation levels mean your house can stay warm with very little energy consumed.

A balanced forced air heating and ventilation system creates the ability to circulate air back to the furnace resulting in better airflow throughout the home and more even, comfortable room temperatures.
Key Areas of Better Building
Keep Out Moisture
Too much moisture is the cause of many issues related to durability and indoor air quality in homes, especially in the Pacific Northwest. Building homes that prevent rot and mold growth will avoid serious health issues and significantly increase the lifespan of the home. There are several strategies to controlling moisture that include:
> Keeping the materials and interior of the home dry during construction to avoid trapping moisture
> Including superior mechanical ventilation systems that keep the home dry and comfortable
> Adding rain screens under exterior sheathing to wisk water away from the surface of the home
> Installing high efficiency humidity controlling bath fans preventing mildew and mold growth in bathrooms
Maintain Comfort
Controlling temperature in a home is critical for both comfort and health. Nobody wants to live in a home with drafts or hot or cold pockets that are impossible to control. More efficient thermal managment means using less energy as well. The home's systems have to work less to provide greater comfort. Thermal control strategies include:

> Creating superior air tightness of a home by sealing all exterior penetrations
> Maximizing the amount of insulation in walls, attics, and foundations
> Adding an Energy Recovery Ventilator (ERV) to maintain fresh airflow (mainly for warm climates)
> Adding a Heat Recovery Ventilator (HRV) that uses the heat in stale exhaust air to preheat incoming fresh air
> Using Low "U" value windows to minimize heat loss



Create Proper Airflow
Currently the average person spends 90% of their lives indoors at work, or at home, so it's paramount that the air quality of their indoor environment is healthy. High performance homes incorporate mechanical ventilation systems that properly manage indoor airflow and filtration of exterior fresh air. Airflow strategies include:
> Incorporation of better filtration of at least MERV 8 or better to remove dust and allergins from the air
> Installation of hard surface flooring to prevent dust and allergins from being trapped in carpets
> Use of low or zero volatile organic compounds (VOC) in paints and glues to prevent off-gassing of harmful chemicals
> Testing and setting the controls for mechanical ventilation to maximize proper airflow




Make It Environmentally Responsible
All Earth Advantage certifications include measures that a builder can choose that increases the sustainability of the home. These measures range from FSC lumber to recycled materials as well as the incorporation of xeroscaping, drought tolerant planting, rain barrel water collection, and renewable energy systems. Key sustainability features include:

> Installation of solar rooftop PV system
> Deconstruction and material reuse for infill buildings where the previous structure is removed
> Incorporation of green label materials like recycled glass counter tops or bamboo hardwood flooring
> Native, drought-tolerant landscaping with grey water collection for irrigation
> High efficiency appliances and LED lighting