Green Builder Awards
2016 Builder Award Application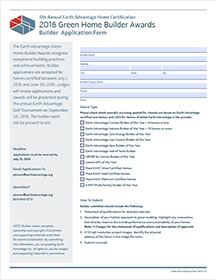 Earth Advantage has been certifying high performance homes for more than a decade now in Oregon and Southern Washington. To date we have certified over 15,000 homes with that number growing weekly. In recognition of the exceptional effort and focus on high performance that our builders represent, we began the Green Home Builder of the Year Awards in 2012 to recognize those stand out builders. A team of three judges meets every year in the summer to review submissions and choose the builders that best represent Earth Advantage Residential Certification standards in that year.
Congratulations to the 2015 Green Builder Award Winners!
The following builders, developers, and individuals won this year's awards:
Statistical Categories
Most Silver Certified Homes
Hendrickson Homes

Most Gold Certified Homes
Stone Bridge Homes NW

Most Platinum Certified Homes
Noyes Development

Lowest EPS® Score ("0")
W H Hull Company
Judged Categories
Construction Manager of the Year
Andy Thomas (Stone Bridge Homes NW)

New Builder of the Year
Cook Construction

Low Income Builder of the Year
Walsh Construction

Volume Builder of the Year
Everett Custom Homes

LEED® for Homes Builder of the Year
NW Ventures Group

Custom Builder of the Year
Bilyeu Homes

Multifamily Builder of the Year
Walsh Construction

Hall of Fame Builder
Noyes Development
2015 Green Builder Award Judges
Scott Leonard
Residential Program Manager for Energy Trust of Oregon New Home's Program;
CLEAResult

Kendal Hansen
Operations Manager;
Lovett Construction

Denise Roy
Faculty;
Portland Community College's Architectural Design & Drafting Program
Thank you 2015 Green Home Builder of the Year Sponsor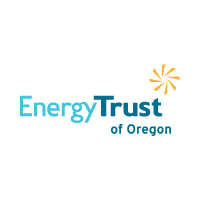 ---
Congratulations to past winners of the Green Home Builder Awards.
2014

New Earth Advantage Builder of the Year

Low Income Builder of the Year

LEED® Builder of the Year

Custom Builder of the Year

Volume Builder of the Year

Hall of Fame Builder

Lowest EPS of the Year

Multifamily Builder of the Year

2013

New Earth Advantage Builder of the Year

Low Income Builder of the Year

LEED® Builder of the Year

Custom Builder of the Year

Volume Builder of the Year

Hall of Fame Builder

2012

New Earth Advantage Builder of the Year

Low Income Builder of the Year

LEED® Builder of the Year

Custom Builder of the Year

Volume Builder of the Year

Hall of Fame Builder