Building Materials Broker Service


Overview
Our Building Materials Broker (BMB) service is a resource for builders and developers in the Portland Metro region whose projects involve removal or alteration of existing structures. By engaging with projects in the early stages of redevelopment, we help to make deconstruction and material recovery an efficient and cost-effective alternative to traditional demolition.
Our Value to You
We serve as your primary point of contact to clients, stewarding your project through the site clearance phase
We serve as a resource to project teams, providing project consultation and connecting clients with the network of entities that purchase or accept used building materials for reuse
We broker the transfer of recovered materials to reuse entities, assist clients in meeting guidelines for material donation, and secure the greatest possible return on the sale or donation of materials
We leverage our network of industry contacts to connect clients with the resources they need to efficiently and cost-effectively meet their project goals
---
For More Information:
Contact:
Jordan Jordan
Building Materials Broker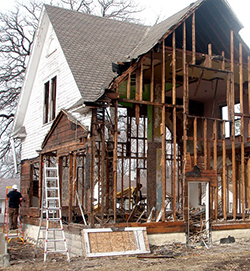 Why Deconstruct?
Deconstruction and material recovery can be achieved in an efficient and cost-effective manner

As much as 85% of a building's major components are salvageable for reuse— sale or tax-deductible donation of recovered materials can help to make deconstruction a cost-competitive option

Choosing deconstruction allows for the safest and most sustainable removal of a building, which limits risk and helps builders foster a positive relationship with the communities they serve

​Practicing deconstruction now positions development teams ahead of a quickly changing regulatory environment (and helps avoid growing pains)