Earth Advantage® Broker
Formerly Sustainability Training for Accredited Real Estate Professionals (S.T.A.R.)
Course Availability
| | |
| --- | --- |
| June 9-10, 2014 | 8 a.m. to 4 p.m. | Hillsboro, OR | Sign up now » |
Overview
Benefits
Reviews
FAQs
Course Fee
The Earth Advantage® Broker course gives real estate professionals the knowledge and skills to communicate with clients about the value and benefits of a new or remodeled green home. Participants will be able to identify which home features and building products provide greater energy, water, and resource efficiency and create a healthier living environment for their clients.

The two-day course provides an overview of different green home certification programs and offers participants a hands-on exploration of green building techniques and products through certified home site visits. This accreditation course will provide real estate professionals with an understanding of the green home consumer market segments and prepare them to market and sell a green home.

Learn more about the Earth Advantage® Broker accreditation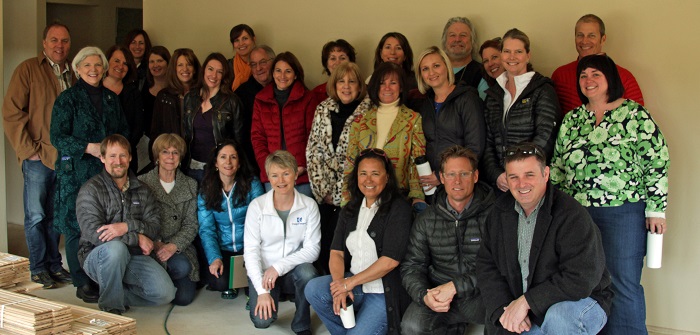 EA Broker course | Bend, OR 2013
Questions? Contact Carina Gaz at cgaz@earthadvantage.org or 503.968.7160x20.

Visit our Licensing Opportunities page to learn more about licensing our EA Broker curriculum and/or partnering to deliver EA Broker courses outside of Portland, OR.
Learning Objectives
Describe basic green home features and trends
Communicate effectively about green building concepts
Identify the differences among leading third-party green home certification programs
Tailor your marketing message to clients who have varying green values
Benefits
Earth Advantage® Broker Manual and Resource Guide
The Northwest Green Home Primer by Kathleen O'Brien and Kathleen Smith (Live course)
Two site visits to certified green homes (Live course)
Earth Advantage® Broker Accreditation and use of logo
Personalized Earth Advantage® Broker page on the Earth Advantage Institute Web site
Access to the Earth Advantage® Broker network on LinkedIn
Discounts on other Earth Advantage® Institute courses and events
Distinguish yourself in the marketplace with green home knowledge and marketing skills
Satisfies NAR's Green Designtation 'Green 100' course requirements
Oregon Brokers: Energy Trust of Oregon's Incentives for Real Estate Professionals
$250 fixed annual reimbursement for one website featuring Energy Trust of Oregon required text and logo.
Up to $2000 annually for approved marketing campaigns as a Real Estate Ally
"I have been in the business over 20 years and have taken many classes. This would rate on the top for long- lasting effect in my business and personal life. Since the class, my mind set has changed. I've told clients and agents this is the future. We all need to do our share. Thanks for the opportunity."
– Sherry Adcock | First Realty (Auburn, AL)
"Wonderful and pertinent class! The Earth Advantage Broker program is an indispensable tool for Realtors to professionally represent the new trends in building and design, and is invaluable in helping us to educate our clients on the durability, safety, and cost effectiveness of green products, practices, homes."
– Jenifer Jepson | The Hasson Company (Portland, OR)
"I would like to thank EarthAdvantage for the comprehensive look at the "world of home efficiency". This course gave an indepth look at each component that effects a home's makeup from conception to finish and considerations that a family would have to look into to make the appropriate decisions for their lifestyle and family. It also showed us the unique advantage in the marketing an energy efficient home that we have over others who have not taken the course. I would recommend that all Brokers and Realtors take this course and gain the EarthAdvantage!"
– Eugenic Lee | Your Realty Company (Montgomery, AL)
Is the course approved for continuing education units?
Yes. The two-day, live course is approved for:
14 continuing education credits in WA
12 continuing education credits in OR, NV, VA
9 elective continuing education credits in AL
The online course is approved for:
8
continuing education credits in OR
How long is the live course?
Earth Advantage Broker is a two-day course. The course typically starts at 9:00 am and goes until 4:00 pm.
Are there any prerequisites or requirements?
There are no prerequisites for enrolling in the Earth Advantage Broker accreditation course. However, participants seeking continuing education units or the Earth Advantage® Broker designation should be licensed real estate brokers or salespersons in Oregon or Washington. Certification requires full attendance and the successful completion of the online, open-book examination with a minimum passing grade of 80%. Students are allowed to retake the exam once to receive a passing grade
Who are the instructors? What are their qualifications?
Currently, Taylor Watkins is our Earth Advantage Broker Accreditation course instructor. Find out more about Taylor by reading his profile.
Yes, the course includes site visits of innovative certified homes, including Passive House, Net Zero, Living Building Challenge, LEED for Homes, Earth Advantage, and ENERGY STAR. Generally, the course includes two site visits.
How do I take the accreditation test?
The online, certification exam is composed of 35 multiple choice questions. Upon (live and online) course completion, students will get access to our online testing site and will have two weeks from the completion of the course to attempt the exam. Successful completion of the exam, pass with a 80 percent or higher, you will earn the Earth Advantage Broker accreditation. Should you need to retake the exam, your course fee includes one retake of the certification exam.
Are there discounts or scholarships?
Group discounts and custom classes can be created on an individual basis; contact Earth Advantage Institute (EAI) for details. Currently, there are no scholarships available to offset the entire course cost
Registration
Live Earth Advantage® Broker course

$345*
Earth Advantage® Broker accreditation exam
$199
Earth Advantage® Broker accreditation renewal exam**
$99
*Receive accreditation exam for FREE with purchase of course
**The accreditation renewal exam and study guide will be available summer 2014. Please stay tuned.
This course is generously supported by: