Building Science Fundamentals
Understand the natural laws that drive the thermal, air and moisture flows within a home
Overview
Take the mystery out of tight homes and moisture management by gaining confidence in your energy-efficient design and construction practices while optimizing your investment and reducing liability through superior building performance.
This course explores how properly designing and constructing a building's envelope, or thermal and moisture barrier, is essential for a comfortable, healthy, durable, and energy-efficient home. The course provides an exploration of the fundamental laws that govern the dynamic flows within a building in order to understand the interconnectedness of house systems. These fundamentals are necessary tools to use when making design, construction and operation decisions that affect the sustainability of projects. Students will analyze best practices for managing thermal, air, and moisture flows to create a house that is healthy, safe, energy efficient, and durable.
Course Features
Day 1: Guest speaker presentation
Day 2: Two site visits to certified green homes
Learning Objectives
Explain the natural laws that drive the thermal, air, and moisture flows within a house
Develop strategies for analyzing how dynamic flows affect the performance of a house
Calculate the overall R-values of various house assemblies and analyze potential efficiency improvements
Calculate wall assembly U-factors and evaluate the optimum orientation of a house
Understand how improving building performance affects indoor air quality
Describe potential water management strategies
Select appropriate design features and assemblies according to project objectives
Integrate building envelope details into plans and specifications
Want to learn more?
This Building Science Fundamentals course actually forms Module 2 of our interactive 6-month
Sustainable Homes Professional (SHP)
accreditation course.
Instructor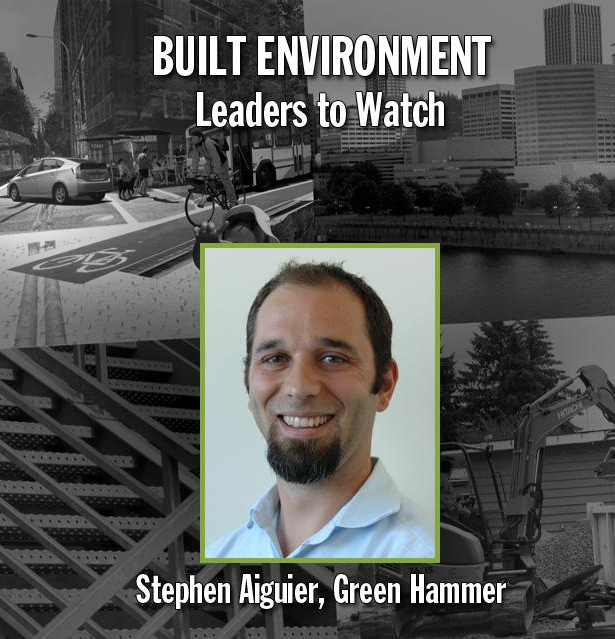 Our expert instructor,
Stephen Aiguier
(President & Founder of Green Hammer, Certified Passive House Consultant), has innovated and implemented cutting edge high performance building practices to advance the national standards of green building. Stephen has been invited to speak in front of thousands of people at every major green building conference in the United States, and he regularly blogs for the Daily Journal of Commerce and Sustainable Business Oregon. In 2011, he was named one of Portland Business Journal's "40 Under 40", and as one of Sustainable Business Oregon's Top 10 Sustainable Built Environment Leaders to Watch in 2012.
Questions?
Contact Heather Kendall at
hkendall@earthadvantage.org
or (503) 968-7160 x20
Reviews
"The Salem BSF course with John Spillman was very informative, well-organized, and well-paced. The course materials and experienced instructor provided a wealth of useful knowledge, which will help us improve our green building practices and push the profession to a more sustainable future. I highly recommend this course to anyone in the design/construction industry."
— Keyan Mizani, Architect, SHP | eMZed Architecture LLC
---
"I am very pleased with being received in to the Earth Advantage Building Science Fundamentals courses. I have gained a level awareness that dwarfs my previous 20+years of building experience. I am pleased to learn how far the industry has come to building, insulating, sealing and venting commercial and residential structures. It is good to know that we are steadily growing our knowledge-base to better meet the current and future challenges of conserving and efficiently using our God-given resources. Thank you to the team at Earth Advantage."
— Darryl Rice, Youth Construction Trainer, Habitat For Humanity of the Mid-Willamette Valley
---
"The class was fabulous. Stephen absolutely cleared my thinking about moisture control, particularly vapor in walls. I feel encouraged and ready to move forward in the direction of passive house in all projects where I can apply these techniques."
— Joseph Engum, Builder/Remodeler | Housecraft Building & Renovation
---
"I've always wanted to be a scientist, and I have worked in the building industry. Earth Advantage and its Instructors have allowed me to explore my Inner Building Scientist."

— Tom Lucas Jr., Builder | Lucas Construction
Course Fee
Want to learn more?
This Building Science Fundamentals course forms Module 2 of our interactive
6-month
Sustainable Homes Professional
accreditation course.