The Benefits of Certification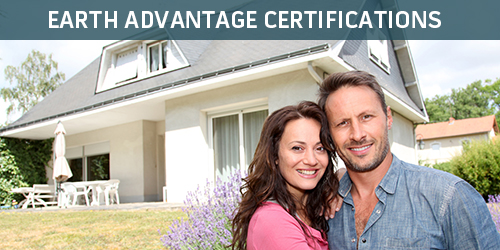 Why Certification Matters
For 22 years, Earth Advantage has helped homebuilders, developers and owners in Washington and Oregon certify over 15,000 single family homes and over 1 million square feet of commercial space. Earth Advantage Home Certification ensures your home is at least 15% more energy efficient than state building code requires. In 2015, Earth Advantage certified homes average 28% more energy efficient than Oregon building code. Our certification means your home was inspected by a trained building science professional at least twice to ensure it met our rigorous certification standards. Those inspections ensure your home was built to last, works efficiently, provides a healthy indoor environment, and retains its value. As a nonprofit, third party verifier, Earth Advantage gives you the peace of mind your home was built better.

Earth Advantage Commercial ensures small commercial buildings are 16% to 50% more energy efficient than code buildings as well as maintaining proper siting, environmental controls, job site waste management and sustainability.
---
How Earth Advantage Certification Works
The Benefits
Earth Advantage Home Certification is a third-party green building certification program that helps builders create energy efficient, healthy, durable, and resource-wise homes. The Earth Advantage Home Certification standard requires homes to achieve a minimum number of points in each of five categories: energy, health, land, materials, and water. The number of points earned qualifies the home for one of five levels of certification: Silver, Gold, Platinum, Net Zero Ready, or Net Zero.

In addition, Earth Advantage has created a commercial building certification standard to address the underserved small commercial building market.
Working With Builders, Developers & Owners
Earth Advantage works with over 100 builders across Oregon and Southern Washington, working with them at whatever level they are at to create increasingly better homes. At the core of our program is an online points worksheet, the first in the nation, a tool designed to streamline the certification compliance process for builders. Earth Advantage Green Building Consultants work hand in hand with builders to provide technical consulting and guidance that helps builders move their projects toward ever increasing levels of performance. Our work with builders is a collaborative effort, not a mandate, that provides current knowledge and best practices in the creation of high performance homes. Builders who use Earth Advantage certification are creating greater value to you in the form of greater comfort and health, as well as future resale value. These builders also learn, over time how to integrate sustainable practices into their overall development, design, and construction process.

On the commercial side, Earth Advantage works with Provider Firms who assign Project Stewards to help guide design teams through the EAC process toward a commercial certification. There are currently architecture, engineering and green building consultant Provider Firms across the west coast and in Colorado, working with us to certify more small commercial projects.
Inspecting For Quality
Along with the guidance provided to builders by our Green Building Consultants, we have Technical Building Consultants that thoroughly inspect homes under construction. Our Technical Building Consultants perform on-site inspections twice for every home we certify. At the first inspection we verify insulation and air-sealing best practices, mechanical equipment efficiency, window air sealing and flashing installation, and wood moisture content levels. The final inspection occurs at completion to assess operation of heating and cooling systems, mechanical ventilation systems, finished products, and overall airtightness of the homes. Once the Technical Building Consultant has verified the home has met the requirements of selected measures and passed all tests, the house is certified and an Earth Advantage certificate is issued and a verification sticker is placed on the home's electrical box.

Earth Advantage Commercial projects are certified with a certificate and some buildings elect to place a glass plaque on the building. Our Commercial Program Manager works with Project Stewards to guide them through the specifications process and then verifies the final submitted documentation before issuing the commercial certification. The comprehensive nature of the Earth Advantage Commercial program is designed to improve health, comfort, durability, energy efficiency and water efficiency while reducing operating expenses. Earth Advantage Commercial incorporates key high performance strategies through a streamlined set of cumulative measures which helps keep certification soft costs low. The result is a straightforward system for certifying mainstream small commercial buildings.
Five Pillars of Earth Advantage Certification
---
ENERGY
By using high-performance equipment, increased insulation, and air sealing techniques, an Earth Advantage certified home's monthly energy bills can be significantly lower than those of a traditionally built home.

---
HEALTH
Indoor air quality plays a major role in overall health and lifestyle. Earth Advantage certified homes contain earth-friendly building materials that off-gas fewer harmful chemicals than traditional materials. Certified homes also incorporate a mechanical ventilation system that reduces airborne contaminants, diminishing the chances of allergies, asthma, and other more serious health risks.

---
LAND
Practices used during the construction of an Earth Advantage certified home diminish land degradation and deforestation, promote healthy landscapes, reduce waste, and prevent potential erosion associated with lot development during the construction process.

---
MATERIALS
New home construction and upkeep depend heavily on natural resources. The use of locally manufactured products is encouraged because they are environmentally responsible. Durable material choices are also incorporated. This helps the environment by reducing the amount of materials needed to maintain the home.

---
WATER
Earth Advantage certified new homes are built using water-wise technologies that help lower utility bills and reduce the amount of water needed to maintain a comfortable lifestlye. Water shortages are a primary concern in the 21st century, and Earth Advantage Home Certification addresses water conservation needs.